Staying connected has never been more important.
88%
of physicians worry that their patients are not adhering to treatment as prescribed.*
41%
of physicians report that to properly manage patients' chronic conditions, they should see them 3-5 times a year, but regularly see them less than half that amount.*
7 in 10
patients say their doctors are limited to only 10-20 minutes in an office visit.*
1 in 5
patients struggle to stay on top of their medical issues and need more help.*
* Chronic Care Management Report from Quest Diagnostics (2018)
Additionally, Pharma is facing barriers when partnering with providers:

There is less time spent with pharma reps, making objectives a challenge.
Many patients are "lost to follow up" or not identified for optimal treatment.
Physicians are increasingly wary when pharma wishes to talk to patients.
IMC requirements limit program scope.
PSP paperwork makes new treatment starts a burden.
Our Solutions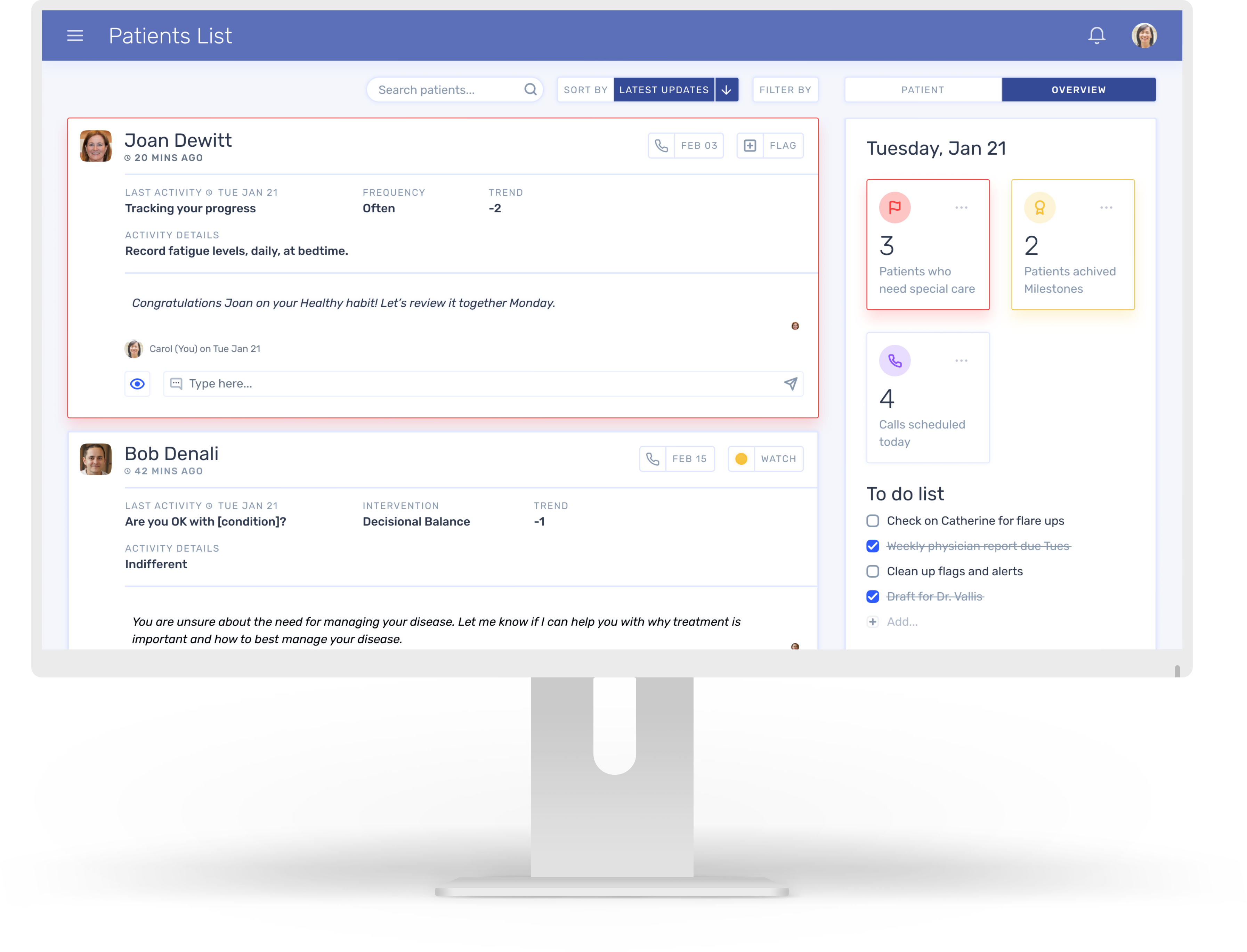 Clinical Assessment Programs™ (CAP)
Lyceum Health's Clinical Assessment programs reduce administration and improve visibility to patient experience when starting and switching therapies.
Real time insights from assessments.
Distribution of patient education and clinical instructions.
Helps optimizing treatment.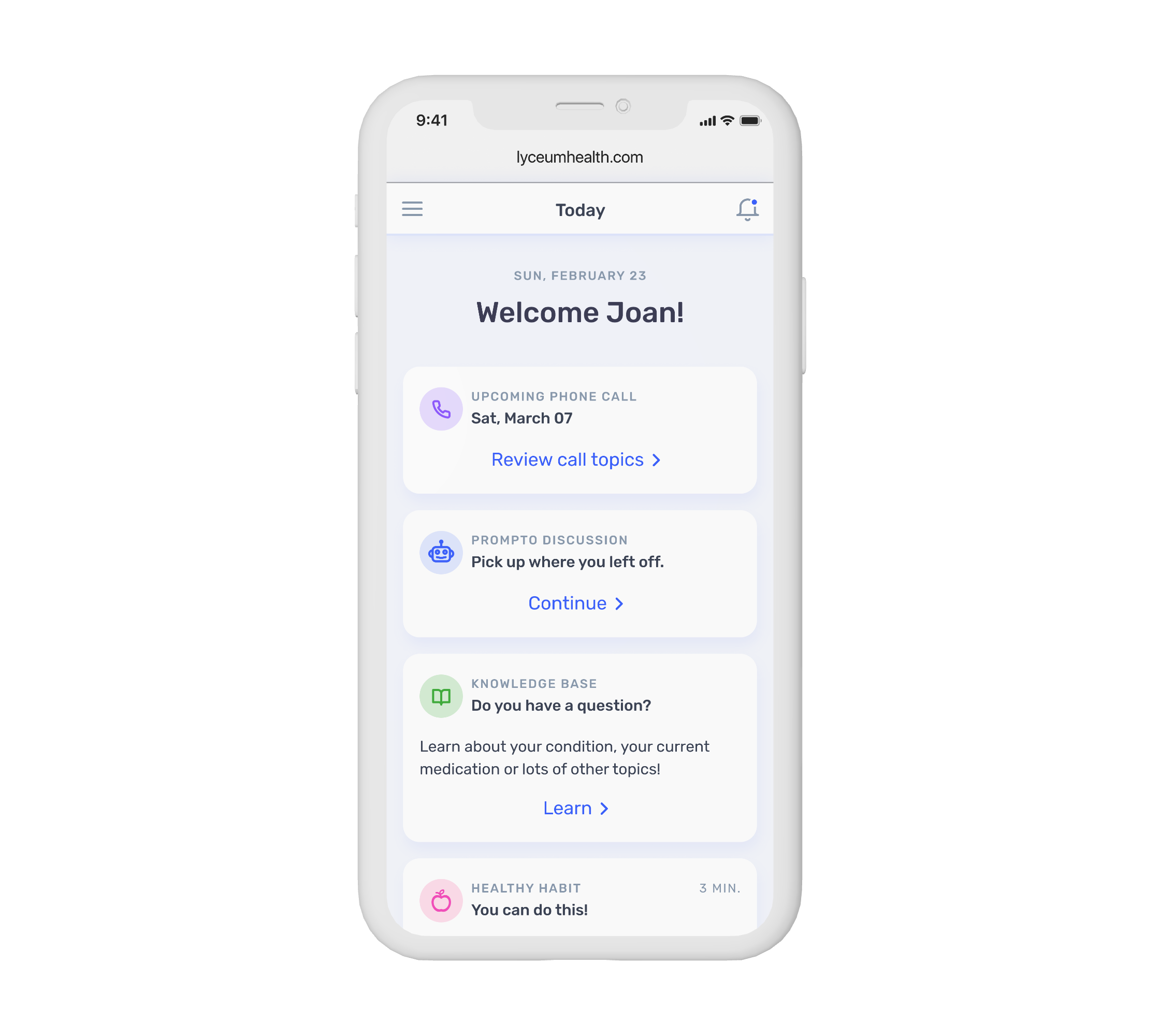 PrompTx™
In the world of patient support programs, the PrompTx™ web application provides a behavioural, science-backed approach to patient communication.
Proprietary algorithms informed by behavioural science.
Segment patient needs.
The right support, for the right patient, at the right time.
Use PrompTx to uncover and address barriers to non-starts and discontinuation while reporting progress to providers – delivering complementary support to busy clinics, new patient insights and tangible ROI.
Helping Physicians
CAP™ and PrompTx™ are private and secure ways for clinics to:
Improve the continuity of support and reduce administration when starting and switching patients by automating data collection for special authorizations.
Increase visibility on patient progress at referral with baseline data and trends after starting therapy.
Help patients follow instructions and engage in required self-care.
Increase patient access to trusted education/instruction materials.
Generate reports on patient population for practice reflection.
Leverage technology to support patients remotely.
Adhere to strict privacy and security requirements.
Helping Pharma Manufacturers
CAP™ and PrompTx™ are IMC compliant ways to:
Help providers optimize treatments.
Complement clinics filling monitoring and support gaps.
Generate new opportunities to meet providers with meaningful data.
Reduce provider burden of starting and switching patient therapy.
Generate new insights and data continuity.
Accomplish objectives – proven to deliver ROI.
Adhere to IMC compliance requirements.
Our Team
Since 2009, Lyceum's mission has been to help people make informed decisions and to take action for better health outcomes.
Our team passionately delivers on this vision through our work with healthcare professionals, institutions, and industry.
Contact Us!
Whether you want to request more information, read our case studies, book a demo of our products or join our team, we would love to connect with you!
Please leave us a message below or reach out directly.
Our Address
2 Bloor Street West, Suite 1918, M4W 3E2, Toronto, Ontario, Canada